Bella – Courtesy Listing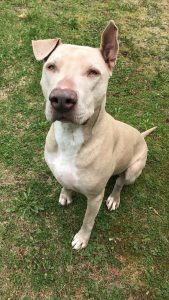 Hi. My name is Bella and I am a 65LBS, 5 and 1/2 year old female Pitbull mix. I would work best in a home with no other pets and the focus can be 100% on me, as I love attention!
It is highly recommended by my current owners that I be the only animal in the house. Although I was raised in a home with a 3 year old again, I still would prefer the attention on me (I do love my humans). I have graduated from basic obedience class and I know basic commands such as sit, stay, paw, down and of course I love to fetch and return! I am an amazing walker and trained on leash (I will take all the walks with you!) Off leash my mom says I am "ok". I do need to listen more (it's hard when there is a squirrel near by). Because of my size and breed I need to be taken outside and exercised at least twice a day.
I have been crate trained although recently being out of the crate some retraining would be needed as I do prefer to roam free in the house.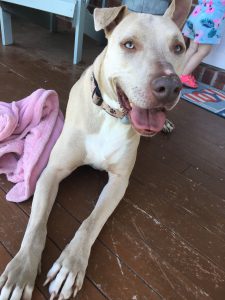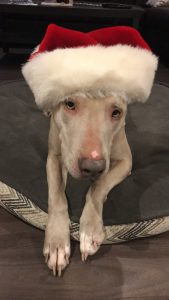 If you're looking for a dog that will love you unconditionally I am looking for you! I consider myself a lap dog even though I do not fit. I will listen to you wherever you tell me to sleep and will keep off furniture if told. I'm looking for a forever home where unconditional love is needed. 
This is a courtesy listing.
If you are interested in providing Bella with a forever home, please contact Jessica, the owner directly @ jessbrousseau@hotmail.com