Icy – Courtesy Listing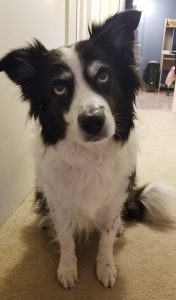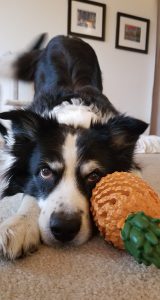 Icy, a 10 year old Border Collie, was surrendered through no fault of her own, a situation which was largely due to a change in circumstances at her previous home. She has adjusted beautifully to life at her foster home and was fully assessed by a veterinarian upon arriving in our care.
Medical
Spayed, up to date on DHPP, Rabies & Leptospirosis vaccines.
Has diabetes. Blood sugar levels are improving steadily with twice daily insulin injections, which she is a superstar about having done! Special glucose support food (Hill's W/D).
Temperament
Icy is a sweet, affectionate, and overall lovely dog. She is well trained with excellent recall and very polite manners. This would be a very long list if we included all the wonderful things about her!
She is a pro with a ball, she LOVES to play fetch and returns the ball beautifully every single time.
Loves walks. Good in the car and getting more comfortable every day.
Literally loves anyone that shows her affection!
Beautiful leash skills.
Good with brushing, nail trims, baths, ear cleaning, vet visits and generally just
Will mirror some reactive barking if she is being barked at but is very easily redirected.
Suitable Home Environment
Icy has lived with young children in the past and can certainly share her space with kids.
She is very good with cats; she will whine at them if they are horsing around but she does not chase or generally worry about what they are up to.
She is social with people and other well-behaved dogs. She has little tolerance if a dog is constantly in her face. She is not possessive of food or toys that we have seen.
She does not seem to have separation anxiety issues and is quite content to be left unattended free roaming in the house for short durations.
She loves to be where her people are. She is very sociable and would love to be involved in daily outings and activities.
Suitable companion for any living situation (house, condo; city, country). A fenced yard would be a bonus but is not mandatory if she is watched. She sometimes takes an interest in squirrels and will do the Border Collie stalk when she sees one.
No experience with diabetes in dogs is needed, as we will provide all the information, but a general willingness to learn and strict adherence to routine to ensure she gets the medication and diet she needs is paramount.
This is a courtesy listing.
If you would like more information about Icy, please contact Sarah at thesmittyfive@gmail.com. Serious inquiries only! If you are reaching out, please take some time and tell us a little about yourselves.
ADOPTION FEE: $400