Kai – Courtesy Listing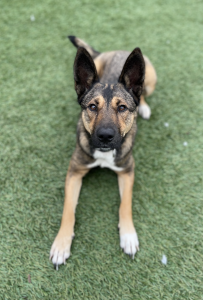 Looking for a foster or a foster to adopt placement for Kai.
Kai is a 1 year old Potcake. She's 60 pounds, and fully vetted. She requires an experienced home with people who can give her space to decompress for a few days once she arrives into a new environment. Once she is comfortable, she is a very playful pup.
She does not do well with cats or kids, but she is extremely dog friendly and would do best in a home with another canine friend, or in a home with only adults.
A quieter environment is best for her, which is why we think the countryside or quiet suburb would be best, where there isn't as much stimulation like traffic and rush hour/ kids schools around and such.
This is a courtesy listing.
If you would like to provide Kai with her forever home, please contact Marie at Paws For Cause at pawswacause@gmail.com
or
fill out an adoption form on their website by selecting the APPLY button at the bottom right of the For Adoption page at https://www.pawswacause.com/adopt