Paquita – Courtesy Listing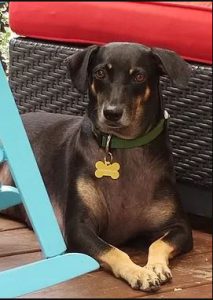 Meet miss Paquita! She is 2.5 years old and arrived from our partner rescue Veterinaria Super Mascotas in July. Paquita was born on the streets of Barraquilla in Colombia and rescued with her mom and sister when she was just a few days old. She has spent her life at Dr. Mely's sanctuary until her arrival to Canada. Her foster family and our trainer have worked for the last few months on helping her come out of her shell. She is now our shining little star, and she is ready to meet her furever family. Her foster parents know her best and this is what they have determined:
TEMPERAMENT
*Paquita is a very intelligent and happy girl. She is energetic, playful and loving. She loves to walk or run every day, but she's also happy to cuddle with her people too. She is very loyal.
*New owners will not be able to reach out and pet Paquita at first. This is a slow process. She will approach her new owners on her own schedule. This should not be rushed. She will attach to one person at first, and others slowly follow. Once she is comfortable, she is very affectionate and full of life.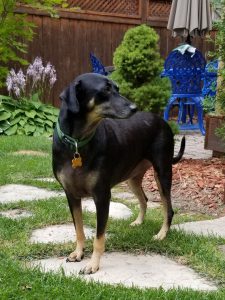 *Paquita will require daily exercise to stay happy and healthy. She has a tendency to put on weight hence the importance of a good daily routine. She gets the zoomies almost every day and loves a good game of tag.
*She can be in all sorts of environments. She has no issues with traffic, other people walking or cycling by her, skateboards etc.
*She will ignore most other dogs she comes into contact with. She will naturally want to play with some, but doesn't like it when other dogs invade her personal space. She will back away and at times emit low growls. She may hide behind her human. She is very comfortable with dogs her size, or smaller, and she is indifferent with cats.
*Paquita is hesitant with new people and takes a while to warm up. She requires a family with lots of patience as this process can take several weeks. Her walls will come down on her own schedule, and this process shouldn't be rushed by her owners. Once she is comfortable, she will be the best cuddle buddy.
*Paquita can sleep alone in the house. No crate or cage is required. She doesn't bark or chew, she has no destructive tendencies. She has excellent bathroom habits.
*Paquita gains confidence every day. Her progress has been remarkable. She surprises us every day as her true personality emerges.
OWNER SUITABILITY
*Paquita would be well suited in an active home. She can tolerate older dog-savvy children aged 11+ years. She will bond well if the children walk, run or play fetch with her.
*Although Paquita doesn't appear to guard her food, children should not approach her while she's eating. She does not guard her toys.
*Paquita is highly trainable, and food motivated. Keeping in mind her tendency to gain weight, small rewards are best.
*Paquita needs a fenced yard. If frightened, her reaction is to bolt. She does not test the perimeter, and is happy to remain in the yard for hours.
*Paquita can be in a home with other small dogs or cats. She does not tolerate large or aggressive/hyper dogs.
*Paquita has had ear mites. They are currently cleared with medication from the vet, but may have a tendency to return if her ears are not regularly cleaned. Her claws grow quickly and require trimming every 2-3 weeks for foot health.
This is a courtesy listing.
If you would like to provide Paquita with her forever home, please contact Marie at Paws For Cause at pawswacause@gmail.com
or
fill out an adoption form on their website by selecting the APPLY button at the bottom right of the For Adoption page at https://www.pawswacause.com/adopt