Stu (Stuart) – Courtesy Listing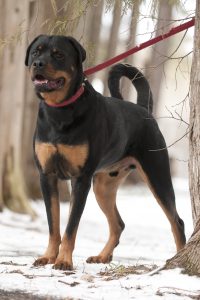 Stu (Stuart) is looking for his forever home.
Stu is a beautiful, affectionate, fun, and healthy 3-year-old Rottweiler, coming from a loving home.
We want nothing more for him than to have a happy and fulfilling life and are devastated to admit that, after 3 years together, our lifestyle is not what is best for him.
Stu loves to be around his humans and snuggle up with them. He loves to play tug and fetch and get his excited growls going. He also loves to eat! He currently eats a raw diet, as well as raw marrow bones and treats. Cucumber, carrots, and romaine lettuce are his favorite vegetables, but he'll take any dog friendly snack you're offering!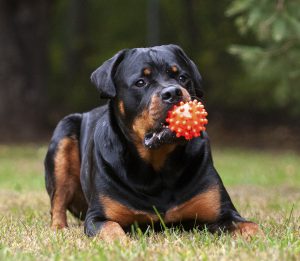 Stu requires a predictable lifestyle, with no children. He has had a few incidents of aggression in the past, where he has bitten people on the arm or hand. It is usually related to resource guarding, and he seems uncomfortable in large crowds. An experienced, compassionate, and dedicated owner is essential for Stu to feel safe.
Stu would do well with a single person or couple who do not frequently have children over. He is crate trained and does well in the crate during times where he needs a safe space away from the action.
Stu's Temperament
• Very sweet, snuggly, and affectionate
• Loves to play, growls excitedly while playing
• Obedient
• Food motivated
• Excited to see you but calms quickly, rarely jumps, if ever
• Low prey drive
• Loves to be at home, on walks with his humans, or running around
Stu's Training
• Obedience
• Good recall
• Crate trained
• E-collar trained
• Some muzzle training
• Experienced with large breeds
• Able to put him in situations where he will be successful
• Experienced in handling dogs who have shown some aggression in the past
• Able show affection as well as set appropriate boundaries
• Fenced in yard or other appropriate boundaries
To apply or ask questions about Stu, please contact stuart.ottawa@gmail.com