Whikey – Courtesy Listing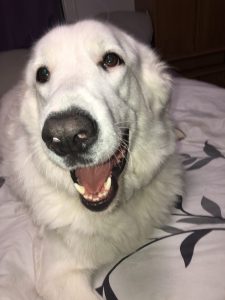 Whikey is an almost 3 year old Maremma/Great Pyrenees mix who has an amazing personality. He is very goofy at times, but can also be very serious. He has always been around children and other animals and never had a problem. Approximately 6 months ago, however, his current owner's life took a turn for the worse. Unfortunately, Whikey's behavior also followed suit. Compounded with a move to a new house and routine, Whikey started to snap at the other animals he had been living with, and also his humans, children and adults alike.
Whikey is adjusting to his new circumstances. True to his genetic makeup, as long as he works his brain and body, he shows his amazing respectful side. But once he gets bored is where he starts to get in trouble. The current owner has reached out to several places for help. An assessment showed he has solid obedience skills (sit, stay, heal, watch silently, speak and fetch) and lots of potential.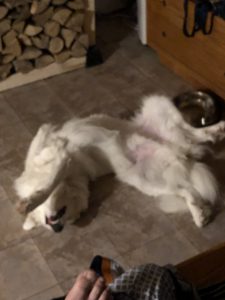 Whikey is a special boy who loves attention and loves to have a job to do. If he is being worked, he is the utmost amazing boy. To that end, farm/country living would be most suitable. He needs a home where there are no other animals or children. When he is fed he needs to be fed in a location where he is alone where there is no one around him. He has also been trained on a vibrate collar and a prong collar. He will tell you when there are guests and you just have to say thank you and he will then go on with his business. He loves to run, play, and get lots of affection. He believes he is a lap dog so will sit on your lap. He loves to be brushed and also Vacuumed. He is neutered. He does have some minor allergies to food, although to what exactly has not yet been determined.
This is a courtesy listing.
For more information on Whikey, please contact Samantha Gilby at 613-796-4379 or gizmospal_3@hotmail.com