Training / Seminars
Training
Keshet Kennels partners with some of Ottawa's best canine instructors to provide an array of courses at our facilities.
Stay 'n Learn
Basic Obedience Courses
Advanced Obedience Courses
Rally-O
Agility Training
Flyball Training
Search and Rescue Training (not currently scheduled)
Seminars
Keshet hosts informative and educational seminars on issues relevant to canine welfare.
Dog health issues
Legislation, rules and regulations
Fundraising events
Keshet Kennels serves as an informal meeting place for dog owners and other canine enthusiasts. It is a great place to exchange information and resources. We offer a welcoming environment where networking and socializing is encouraged.
———————————————————————  ———————————————————————-
Volunteer Trainers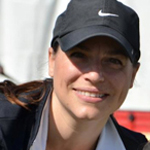 Rescue Volunteer Trainer
———————————————————————  ———————————————————————-
Course Descriptions 
Basic Obedience ‑ the emphasis is placed on helping the owners to teach their dogs basic skills of manners and self control (such as no pulling on a leash, no biting, no jumping on people, responding to simple commands etc.).
Advanced Obedience – provided for dogs whose owners decided to continue the Obedience Training. The emphasis is placed on mastering communication skills between the owner and the dog while performing various tasks off‑leash. The skills taught include: retrieve on command, advanced recall, off‑leash heeling, off‑leash distance sits, downs and pick‑ups, out of sight stays, high jump, hand signals, and tricks.
Rally-O – it is a fun take, and combination of, Obedience and Agility Training. The training is designed to promote positive and lively teamwork between dog and owner who is encouraged to communicate with the dog verbally and by using hand signals. There are usually 14‑16 stations, requiring obedience exercises at each of them. Rally‑O Training teaches up to as many as 50 exercises which are divided into Basic (on‑leash demonstration of basic commands), Intermediate (off‑leash demonstration with at least one jump) and Advanced (off‑leash precise coordination) skills categories.
Agility ‑ provided for dogs with prior basic training (such as Basic Obedience Training), which are able to perform tasks off‑leash. During the training owners will teach their dogs not only to know and obey specific commands, but also how to conquer obstacles on the course. The following obstacles and jumps will usually be used in training: A‑frame, Dog‑Walk, Pause Table, Seesaw, Open Tunnel, Closed Tunnel, Circle/Tire Jump, etc. The Agility Training is a great way to get exercise and strengthen the bond between dogs and their owners.
Flyball – it is a team sport for dogs and their owners. The training is available to partially and fully trained dogs. Canines of all shapes, sizes and breeds can participate, particularly if they enjoy ball playing. Flyball training is designed not only to teach the dog specific skills required to play the game such as: box turns, jumping, coaching, passing, speed and motivation, but also to teach the owner how to play and what techniques and tricks to use to achieve best results and enjoyment.
Search and Rescue ‑ to attend our Search and Rescue classes the dogs must be particularly well‑socialized; not fearful of or aggressive to humans or other dogs; not fearful of and able to ignore loud noises, sudden movements and unstable, hazardous footing.