Rescue & Adoption
Rescue
Keshet Rescue specializes primarily in large breed owner surrenders.
We understand that people's lives, at times, undergo changes which can influence living situations. Sudden changes in environment, relationships, health, or finances may result in hardship. Occasionally, these situations end up affecting the owner's ability to provide adequate care for their canine companion(s). Keshet Rescue wants to offer people in these circumstances an alternative to the traditional system, because we believe that large breed dogs are more at risk in the "system" and all too often become victims of circumstance.
Keshet Rescue also works in collaboration with local rescue organizations to facilitate rescue transfers. Occasionally, great dogs enter the shelter environment,  and for no other reason, are euthanized based solely on an arbitrary time limit. We are pleased to participate with other local rescue organizations to give these dogs the extra time needed to find their forever homes.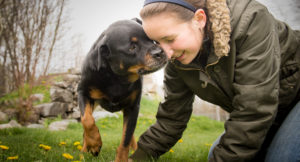 We get lots of requests for help, however, the cost and resources involved in caring for dogs until they are re-homed has an enormous impact on the number we can take in.
When we take in a rescue dog, the ultimate goal is to find their forever home. However, the perfect home takes time to find. We keep our rescues in our care until a home is found or they cross the rainbow bridge.
As we are sadly unable to take in every dog that comes to our attention, we work tirelessly to find ways for owners to keep their dogs or to help the owner's find a suitable alternative. Although we do not consider ourselves experts, we have gained much knowledge from our years of experience and may be able to assist by suggesting an alternative to surrender.
If you are interested in sponsoring a dog, the additional funds can assist to increase the number of rescue dogs we have in our care (Sponsor the Rescue).
Adoption
Keshet brings many great dogs into rescue. As we focus on owner surrenders, we never know how many, or what breeds, will be available for adoption at any given time. For current information, please review our adoptable dogs.
While in our care, and before adoptions are finalized, Keshet provides the following to our rescued dogs:
Microchip
Annual check-ups and vaccinations (DHPP, Bordetella & Rabies)
Spay/Neuter
Heartworm treatment (May-Sep); heartworm tested, if applicable
Medications/Vitamins/Supplements if required, as prescribed by vet
Once adopted, the cost associated with maintaining the health & welfare of the adopted dog is the responsibility of the new owner. This includes all costs associated with food, training, medications, veterinary needs, and maintaining good quality of life.
All of our rescues live on-site, giving us the opportunity to really get to know our dogs.  When possible, we work at socializing our rescues with other dogs and a variety of people. We also invest a large amount of time working on their basic obedience, leash, and life skills.
Keshet Rescue has a formal process for those wanting to adopt. Some may find it onerous but after years of experience we find that it is the minimum level of effort required to ensure the correct person is matched with the correct dog.
For information on adoptions, please check out our Adoption Process.
Pricing
$700.00 + HST
For more information on Rescue and Adoption, please contact us by e-mail at rescue@keshetkennels.com.