Angel – Courtesy Listing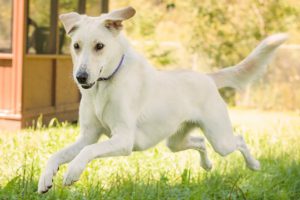 Angel is a sweet and athletic, approximately five year old, Greyhound/Lab cross who needs a calm and stable, yet active environment. Her full history is unknown but she was abandoned to the Ottawa Humane Society at a young age extremely malnourished. She has been with me for almost three years and has worked very hard to learn proper behaviour. Despite being an amazing athlete (running and jumping) and extremely intelligent, she has OCD tendencies and when she becomes overstimulated by small prey, mosquitoes, etc, she needs to be interrupted and redirected to help her change her state of mind. If not, she will redirect her frustration on whoever is closest (human or dog). Unfortunately she has bitten in the past when she has not been redirected.
The right home for Angel will be a single person or couple with dog experience who are willing to continue working with her to overcome her OCD and build her confidence. She responds very well to being challenged mentally and will work hard and reward you with her loyalty and love. She also should not be in a home with children or small animals. Another mature dog in the home may be okay. Angel is not a dog for dog parks or large social gatherings but she will gladly take long walks with you in the woods for hours and hours. When she has been exercised both physically and mentally she is very well behaved will gladly snuggle with you on the couch for a quiet evening. She is spayed and up to date with all of her vaccinations.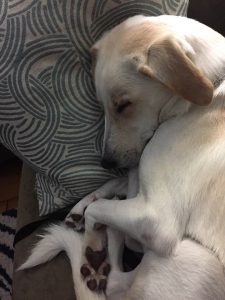 This is a courtesy listing.
If you think you could be a good match for this beautiful, athletic girl who will be your loyal and loving best friend please contact Trish at dogangel12345@gmail.com