Po – Courtesy Listing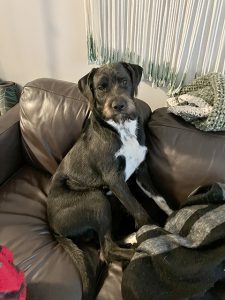 Po (named after Kung-Fu Panda) is a 1.3 year old Schnauzer/Lab with a big heart but a fearful disposition. My family and I are looking diligently for the right person to care for Po as he is reactive towards strangers and requires proper training/TLC to thrive in his new home. Po also is reactive to cars and other dogs. Unfortunately, I am forced to rehome our Po boy because I am a single mother to an autistic child that is requiring more hands-on support and I am running out of time and resources to care for an energetic, reactive puppy. He is wonderful with my son and patient, but I think he would be best suited in an adult-only household. I have never had him around cats or other pets really, so I'm unsure of his temperament towards them. He is not neuteured, however he is completely up to date on shots and tick prevention. I can provide his vet documents. Po walks well on leash, he uses a prong collar which we discovered through puppy obedience training. He knows how to sit very well, give paw and lie down.
This is a courtesy listing.
Please call me at 613-266-5927 to further speak about Po if you are interested.