Tyson – Courtesy Listing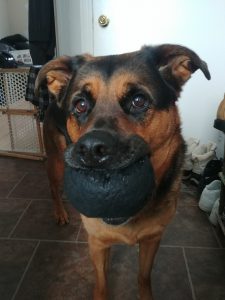 Tyson is a black and tan German Shepherd Rottweiler mix. She is just over 5 years old (born January 12 2014).
Tyson needs a strong leadership role. She is an alpha personality and she thrives on routine and structure. She is trained to walk on a leash, using a gentle leader and easy walk training harness. She responds best when alternating between using the head  collar & harness, as she adapts easily and regresses when using just the one consistently. She is reactive to dogs on the street (leash proud) and often wears a muzzle for walks.
Tyson has always lived in an apartment. Although crate trained as a puppy, she would need to be reintroduced to the crate.
She has a tendency of trying to eat things off the ground, but responds to "leave it", if said firmly. The same command has also been used in regards to disengaging her focus from other dogs. She is territorial, food aggressive and is not good with small dogs or cats. She was raised with a cat but when left alone in the house, wore a basket muzzle at all times, so not recommended. Tyson has a sensitive stomach for treats and doesn't do well with a variety, but does well on pure liver bites. She is a working dog and would be ecstatic chasing a stick and doing jobs for you other than cuddle. Her sense of touch is limited and can mouth if pet too much. She has been taught to grab a toy in response to this so she must always have a good chew. She has always had the black Kong ribbed toy and that is what lasts.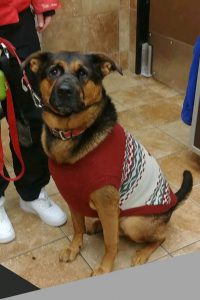 Tyson would thrive in a one dog home but was raised with a senior low energy Labrador and Cat. She is not recommended with children because she is unpredictable and cannot handle the busyness.
She is spayed, up to date on the rabies vaccine. Her DAPPV vaccine technically expired in October 2018.
This is a courtesy listing.
If you are interested in providing Tyson with her forever home, please contact Kelly Leone directly by email at kellyleone143@yahoo.ca or call 613-360-6103. If you leave a text or voice message, your call will be returned.