Happy Tails: Chico Finds His Forever Home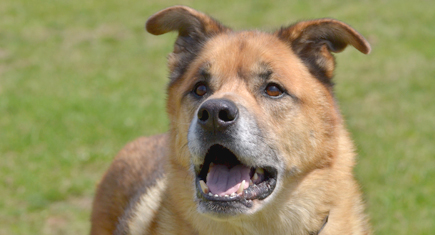 We are happy to announce that on January 7, 2015, Chico found his forever home.
Chico is a 9 year old Shepherd/Rottweiler (and possibly Akita) mix. He came into our care in May 2014 after his previous owners discovered they were not able to bring him along when the family moved. We knew right away that he would be a great addition to Keshet Kennels/Rescue. He was a little unsure of things during the first few days in his new environment and he often vocalized his displeasure with long, heavy-hearted howls. Fortunately, he adjusted quickly to life with us and enjoyed every opportunity to make new friends, both human and canine. He is a sweet, gentle and affectionate boy that always seems to take pleasure in the simple things.
We are glad that Chico has been given this wonderful opportunity, especially as he enters his golden years. New owners, Shirley and Don, adore him and we know he will thrive in his new home. Everyone at Keshet extends their best wishes to Chico and the Chartrand family as they set out on their new life together.