Happy Tails: Pudding Finds His Forever Home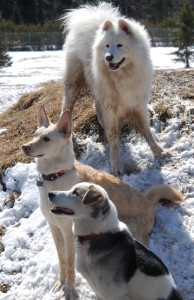 We are happy to announce that Pudding's adoption was finalized on May 3, 2015. By all accounts, he is fitting right in to his new home and adjusting well to life with his new fur-brother, Rupert.
Pudding became a part of the Keshet family in February 2015 after braving the journey all the way from Iqaluit, Nunavut. He is a little firecracker that amused everyone at Keshet with his theatrics and, often times, overly dramatic, leg-extending dance for attention (which you probably need to see to appreciate). He made many new friends while at Keshet and we are glad for the time we got to spend with him.
Pudding's new owners cannot imagine a home without him as part of it. We wish everyone in the Campbell family the very best for the future and look forward to regular updates.