Happy Tails: Mia Finds Her Forever Home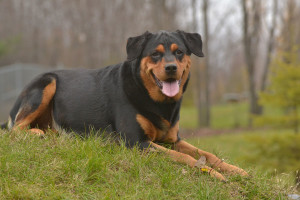 We are happy to announce that Mia found her forever home on November 9th, 2014.
Mia came into the care of Keshet Kennels/Rescue in July 2009 after we were contacted by a member of the Kingston Humane Society. Mia had been abandoned in an apartment and, although we are not sure of the duration, was clearly mistreated and neglected. Mia came to us with some minor trust issues, especially around men, but absolutely loved attention…and food. With plenty of time, love, and socialization with others, Mia blossomed into one fun loving and spirited girl!
We are thrilled that Mia has been adopted but we certainly notice the absence of her exuberant personality. Mia's happy face was, without fail, the first to greet us in the morning and the last to say goodnight. Her enthusiastic and inquisitive nature meant that she never wanted to miss a thing. New owner, Amanda, knows these characteristics well as she has been involved with Keshet for a number of years.
We are happy that Amanda welcomed Mia into her home as we all know Mia's been living in her heart for a long time. It is clear that good things really do come to those that wait.