Winter Wise
Winters in the Ottawa area can be both exhilarating and troublesome. At Keshet Kennels/Rescue, staff and volunteers are always working hard to make sure the dogs receive the time, attention and exercise needed to keep them happy and healthy throughout the winter season.
Some dogs, like people, are better suited to dealing with the cold winter weather and abundance of snow. Our short coated Dogo's for example, want to spend as little time as possible outdoors.  It doesn't seem to take long before they are lifting their paws and showing us their eager anticipation of returning to their warm beds. On the other hand, our Great Pyrenees and Kuvasz are content to spend the entire day lazing about in the winter sun and exploring the snowy wilds.
We are lucky to experience the wonders of all four seasons but we have come to know that each presents its own share of challenges. We take several precautions around our facilities during winter to ensure the health and well-being of all of the dogs in our care, including: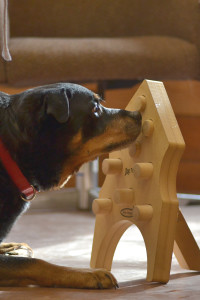 Ensuring dogs have access to fresh, unfrozen water through the use of
heated buckets in all of our outdoor areas.
Taking the dogs outside more frequently for shorter durations.
Using sand to prevent slipping on icy surfaces instead of salt or other
ice melting chemicals which can be harmful to dogs.
Ensuring our outdoor loving dogs have access to shelters insulated
with lots of dry straw and blankets to protect them from wind and snow.
Incorporating more indoor activities with the dogs, such as, interactive games, training, indoor toss and lots of cuddles… just to name a few.
Among the many things we are vigilant about in the winter months, the one thing we are always mindful of is how active the dogs are on the snowy ground. All it takes is a quick slip on snow covered ice to do a lot of damage to a dog's physical health and mobility. Both large and small breeds are at risk of injury in icy conditions and, as we've seen in the past, slipping may cause a number of issues ranging from a torn ACL to a broken pelvis.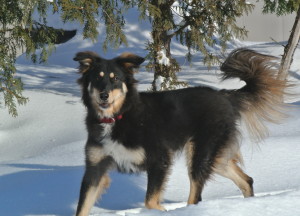 No matter what the weather brings, all of the people and dogs at Keshet Kennels/Rescue enjoy the opportunities that winter presents. After all, it's the only time of year that we can take part in activities such as sledding, skiing and skijoring with the dogs.
If you're looking for a secure place to let your dog(s) explore and play in the snow, check out our Outdoor Facilities page. Winter will be gone before you know it so get out there and enjoy the fun!