Welcome Waggin': Bear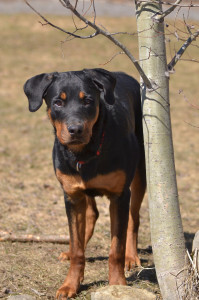 On April 13, 2015, we welcomed Bear as the newest addition to our rescue. He is a 7.5 month old Rottweiler with a great personality. Despite not wanting to give up their dog, his previous owners had made the decision to surrender Bear based on his needs and best interest. The adjustment was a big one for everyone but Bear seems to be settling into his new routine without issues. He is proving to be full of love and has already began bonding with some of our staff and volunteers.
Bear is an active boy and enjoys his many opportunities to meet new people and go for walks. He will be available for adoption shortly. Meanwhile, he will need to pay a visit to our vet for a check-up and neuter before he can be considered for adoption. We will also take this time to reinforce some leash and playtime manners. Bear is very gentle but sometimes forgets that hands are not chew toys. He still has so much puppy in him!
We will be sure to post more about Bear in his adoption profile as we get to know him better. In the meantime, feel free to check out all of Keshet's dogs that are Available for Adoption.