Welcome Waggin': Diamond & Cayenne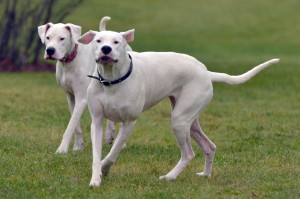 On November 24, 2014, Keshet Kennels/Rescue welcomed two Dogo Argentinos (Argentinian Mastiffs), Diamond and Cayenne. Cayenne (pink collar) is a social girl with a curious nature. Despite being deaf, Cayenne is very alert and attentive. She is adept at using her other senses and we are working at teaching her to respond to hand signals. Diamond (black collar) is a shy and friendly girl.  Although Diamond can hear quite well, she often takes her cues from Cayenne who is the more confident and outgoing of the two. Both girls are very sweet and affectionate!
Diamond & Cayenne are littermates and, at 3 ½ years old, are very dependent on each other. At first, they were a little unsure of the change in environment but they seem to be adjusting well. Both girls love to run and play and are making great use of the space we have to offer.
We will be sure to post more about these two beautiful, fun loving girls as we get to know them better. Meanwhile, be sure to check out Keshet Kennels/Rescue's complete list of dogs that are Available for Adoption.