Welcome Waggin': Kara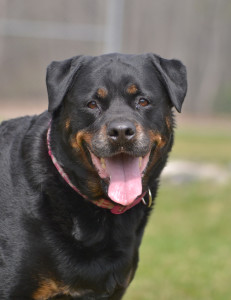 On April 30, Keshet welcomed the latest addition to our rescue. Kara, a 6 1/2 year old Rottweiler, came to us as an owner surrender.
Originally from Wales, Kara came to Canada with her family to start a new life. Unfortunately, some unforeseen circumstances arose and the family had to return to the UK rather unexpectedly. Not wanting to give up their beloved family pet, but having little choice, they were desperately searching for a safe place to send Kara. Resources and time were both in short supply but, with the help of a friendly neighbour, Kara's people were able to facilitate her transfer into rescue.
Although she only arrived in our care a few nights ago , she has already made a big impression in the hearts of everyone at Keshet. Kara is a very sweet girl!
We will be sure to post more information on Kara's profile as we get to know her better. In the meantime, feel free to check out all of Keshet's dogs that are Available for Adoption.